Hillsborough County Trade Show Carpet & Flooring Rental
Trade shows can give your company a huge advantage in reaching out to new markets, strengthening existing ones, and simply getting your brand known and noticed. So if you're joining or exhibiting in a trade show event, it's really important that you present yourself in the most attractive, brand-cohesive, engaging, and informative way possible. This means getting high quality, tasteful, and eye-catching exhibits. For some companies, it could mean adding some furniture to their space in order to exude a more inviting vibe. And if you want to take it another element further, you can add some great carpet or flooring to your exhibit.
Booth carpet and flooring not only boost your space's aesthetics, they also offer your visitors a bit of comfort and rest for their tired feet. And if they've been walking around the trade show venue for hours, you can expect your visitors to linger at your space and perhaps engage with you for quite some time.
Xpo Displays is a leading carpet and flooring rental company here in the Hillsborough County area. We specialize in giving trade show booth and exhibit designs a sophisticated yet welcoming feel to them. Xpo Displays is in the marketing industry, so we clearly understand just how important brand cohesiveness is for our clients, and this is exactly why we make sure you have a wide selection of flooring types, designs, sizes, materials, etc. We want you to have flooring that perfectly complements your brand as well as the overall look of your exhibit.
We at Xpo Displays cater to the trade show needs of all business types from all industries, so if you're looking for trade show carpets and flooring with excellent quality, a vast selection, aesthetic appeal, and ergonomic features, Xpo Displays has got it all for you!
Call Xpo Displays today at (407) 519-9116 for your Free Consultation!
Provide Relief To Tired Attendees
When your trade show exhibit has visitors, you can be sure that they've spent most of their time walking around, hopping from one booth to the next. Their legs are likely tired from walking and their feet are likely sore from stepping on hard floors. Give them the comfort they didn't know they were looking for by adding a trade show carpeting to your booth!
Plush carpet can give your exhibit a homey atmosphere that invites and encourages visitors to check what you're displaying. It also exudes a professional feel, giving people the impression that you're after quality and that you don't scrimp on providing your clients with the best experience. Of course, plush carpet is expensive! Which is why renting it from Hillsborough County 's trusted trade show carpet rental company Xpo Displays is the most practical move. We not only provide you with a variety of styles, thicknesses, and colors to choose from, we also take care of transporting and installing the carpet for you before the trade show starts, as well as cleaning it up and storing it once the event is over.
Xpo Displays's carpet options also come in tiles. They may not have the thickness and softness of plush carpet, but they are definitely more affordable and easier to transport. The tiles we offer are carefully crafted to accommodate your needs—minimized tripping, interlocked tiles, countless design options, etc.
By renting carpet for your trade show booth, you're not only making your space more attractive and eye-catching, you're also giving your visitors an awesome reason to stay longer, engage more, and know your brand more. And by renting from Xpo Displays, you're also getting yourself a trusted partner in achieving all your trade show goals.
Flooring Options for Every Brand
Raising brand awareness and brand familiarity are two things that you, as a business, would want to achieve when attending trade shows. Your goal is to have everything in your trade show exhibit to show who you are, what you offer, who your market is, and why you're the one that can meet their needs. Your flooring can be a wonderful job helping you out with this, but it has to complement your brand.
Here at Xpo Displays, we understand the importance of brand-cohesive booth design, which is why we have a wide variety of flooring options that our clients can select from. Whether you're looking for wood, soft tile, bamboo, vinyl, carpet, garage floor tiles, high gloss flooring, or metal floor tiles, Xpo Displays has it and we're ready to provide you with the best flooring options here in Hillsborough County, FL.
We have been in the business for many years now, and our experience in working with various clients for various events has taught us that consumers like you aren't just looking for carpet and flooring suppliers. You're looking for high-quality flooring that helps convey your brand message to your target market, giving them excellent brand experience. And that's exactly what we at Xpo Displays offer.
Your Event Carpet & Flooring Provider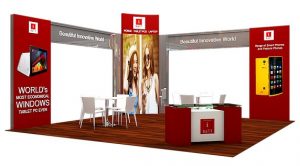 Every business's trade show needs are unique and, to be honest, there is no one-size-fits-all solution for everyone. You need to partner with a company that understands your needs and is fully equipped to meet them. Having been a trusted local trade show elements supplier for a long time, we at Xpo Displays have seen the varying designs, layouts, sizes, markets, products, concepts, and budgets that come from businesses here in Hillsborough County, and we are proud to say that we took on their challenge. And we've successfully completed projects for countless clients attending countless events all over the country. There's no doubt about it, we're ready to meet your trade show needs.
Do you already have your booth or exhibit ready and just need to rent flooring? You can drop by our shop anytime to take a look at the many options we can offer you. Do you not have a booth yet and need that as well? No problem! Xpo Displays is a complete custom trade show display company that creates and rents out booths, exhibits, displays, furniture, and other display elements. And to make it all even better? We make sure to work with your brand, your design, your market, your goals, and your budget in mind. Xpo Displays is the perfect trade show display partner for you!
Free Consultation
Here at Xpo Displays, we are all about helping you raise get the best trade show results by providing you with carpet and flooring that give your space a little extra oomph. From plush carpet to garage floor tiles, we have a solution to every trade show flooring need. The best part? You don't have to spend a lot of money buying it, because you can just rent it from us for the most reasonable price. You won't even have to worry about transportation, installation, dismantling, cleaning, and storage. We take care of you from start to finish.
From the free initial consultation, we learn about your business, your specific trade show flooring needs, your preferences, the event itself, your target market, your branding guidelines, and even your budget. We then use that information to help you with the selection of flooring type, material, design, size, color, etc. Once the order is finalized, we then ensure that your carpet or flooring is on-site on time. We take care of installation, dismantling, cleaning, and storage.
You've got to admit, that sounds like the best deal out there. Xpo Displays has got you covered! So what about we kick it off with a free initial consultation?
Contact Xpo Displays today at (407) 519-9116 for your Free Consultation!