Orlando Trade Show Booths
We make your next trade show exhibition a breeze! Trade shows are a very effective marketing medium, allowing you to access buyers, investors, and industry experts that are interested in the products and services your company produces. In order to attract their interest, you need the right trade show booth.
The Center for Exhibition Industry Research tells us that 82% of trade show attendees are decision-makers with the power to make a purchase during the event. This kind of access is incredibly valuable, so it's vital that your business is prepared to maximize this opportunity with an effective, attractive, and supportive trade show booth.
Xpo Displays custom crafts tradeshow booths, displays, and exhibits that communicate your business's brand message while working within your timeline and marketing budget.
As Orlando custom trade show booth manufacturers, we will design, fabricate, and install your custom booth on-site, so all you have to do is show up and impress. We will have everything set up at the event, ready and waiting for you.
Call Xpo Displays today at (407) 519-9116 for your Free Consultation!
Fully Customized Event Displays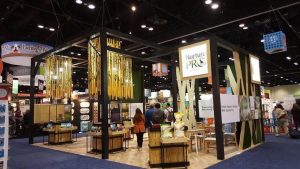 Fully customized trade show exhibits by Xpo Displays mean that you aren't limited to traditional backdrops and retractable banners. We listen to your needs, desires, goals, and marry those with your brand messaging and elements to create a striking, attractive display that is unique to you.
Just because your tradeshow exhibit is fully customized doesn't mean that it all has to be custom fabricated. We have many rental structures and elements available for customization. This is a great way to reduce the cost of your exhibit without compromising the effectiveness of your display.
Our Orlando, FL tradeshow display design experts will discuss all the options available with you during your initial consultation. This will allow you to understand precisely what you can get with you work with us, as well as provide a better idea of what your budget will afford you.
Prefabricated Booth Kits
Prefabricated trade show kits are one of the simplest options for trade show exhibits. Our pre-built booth systems come ready for installation, or we can provide on-site installation nationwide. Prefab kits consist of a specific set of predefined booth elements that can be customized completely to your messaging.
Xpo Displays provides options. Prefab trade show displays can be a great choice, and we can fully customize and install these kits just as we do our custom-crafted trade show displays.
Purchasing a trade show display versus renting a trade show display could be a more cost-efficient option depending on the number of shows you attend and how frequently your messaging changes. Our experts will make recommendations and provide cost-saving analysis to help you make the right choice for your needs.
Modular Trade Show Displays
Modular trade show booths are a combination of customized displays and prefab booths. These trade show exhibit systems are constructed of an assortment of prefabricated elements; however they are interchangeable, allowing you a higher degree of flexibility of design than with a preconfigured booth layout.
Modular exhibits by Xpo Displays make booth customization from event to event a breeze. Instead of being stuck with a defined layout and message, we can create new graphics for elements, or completely reconfigure the way the items fit together to better attract your specific audience at that particular event.
Full-Service Display Company
Xpo Displays is a trusted provider of trade show exhibit solutions, providing customized displays, booths, and all other elements needed for a successful event. Whether you are an event organizer looking for a reliable Orlando trade show sign and graphic supplier, or an exhibitor that needs help making a great impression, we have the right solutions for you.
We handle every aspect of your event displays, from the initial consultation to professional display design, fabrication, on-site installation, and even break down and storage of your elements for future events.
We work with your timeline, budget, and needs to create effective, compelling event displays that attract attention to your presence on the trade show floor while supporting your sales team in promoting your message, products, services, and brand.
Free Tradeshow Booth Consultation
A high-impact trade show exhibit sets your business apart from all of the excitement of a convention. With the right combination of flash and substance, we create effective displays that support your team and sell your brand. Whether you are looking for a timeless display that you can use again and again or something that can be quickly customized for your different events, Xpo Displays has the solution for you. We are excited to discuss your goals, and what we can do to help you reach them.
Call Xpo Displays today at (407) 519-9116 for your Free Consultation with a Tradeshow Expert!