Volusia County Convention Booths
Company conventions, conferences, training seminars, and other corporate events are fun and provide a lot of engagement among members of an organization, but they also provide a wealth of growth and learning. Local Volusia County businesses mustn't miss out on them!
We at Xpo Displays understand just how valuable a convention is for your business—whether you're organizing it or participating in it—and our mission is to help you make your conventions a huge success. We do this by providing you with professionally designed, meticulously manufactured, and strategically installed convention booths.These give organizers and exhibitors alike the best convention experience by making the area easily navigable and by getting each unique brand message across clearly.
Xpo Displays is all about giving our clients highly attractive and highly effective booths for so that they can reach their convention goals. Whether it's promotion brand awareness, bringing in more sales, doing business-to-business trading, we are here to give you the perfect booth to accomplish what you need to. We do this with your brand, target market, timeline, and budget in mind, too!
Call Xpo Displays today at (407) 519-9116 for your Free Consultation!
Fully Customized Convention Displays
If you're looking for booths that look nice, you can find a lot of those in the market. Unfortunately, pretty booths aren't really enough to do the job. Getting yourself the usual vinyl banners, signs, and displays won't do the trick unless they're specially designed and fabricated to clearly speak a specific message to a specific audience. Your organization has unique convention needs and you're going to need a unique booth to meet them.
Xpo Displays specializes in custom booths, displays, and exhibits for a variety of corporate events and we've been a trusted provider primarily because we make sure that the booths we deliver meet the very specific display needs of our clients. We do this by carefully learning important details about your organization—your branding, goals, event objectives, target market, and even your budget. We use all this information to come up with the custom-crafted booth that best suits your needs.
When we talk about customizable booths, we don't just mean the ones you purchase. If you think that buying your own custom convention booth is too much and impractical, don't worry, Xpo Displays has a solution for you. We are complete signs, graphics, and display company, and we provide our event clients with a vast selection of booths, booth elements, and accessories for purchase as well as for rent. We offer our rental services to clients who don't think they need their own custom booths but still want attractive, impressive, and effective option anyway.
Whether you're looking for convention booths to buy or to rent, we at Xpo Displays are ready to provide what you need. We can sit down, look at samples, and talk about it in an initial consultation so that we know what your needs and expectations are, as well as what limitations we need to keep in mind for the project.
Prefabricated Booth Systems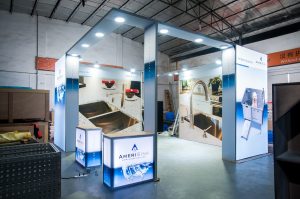 Organizing or attending conventions can be a huge undertaking. You may find yourself thinking, planning, and worrying about a myriad of important things. So it's not very surprising for us here at Xpo Displays to hear our clients ask if we have any hassle-free convention booth kits, and we do!
Prefabricated booth systems by Xpo Displays can definitely help make your convention booth one less thing to worry about. We manufacture a wide array of booth sections and elements that you can choose from. They are ready for assembly and installation, which means you won't have to worry about waiting for your booth to get made. You can set up the entire display yourself if you want as the kits are specially designed for easy assembly. If you're not quite sure how to go about the installation, our team of professional booth installers would be more than happy to provide on-site installation in any city of any state.
Here at Xpo Displays, we don't want to just deliver a booth to you. We want to play a part in the convenience and success of your convention. We want to deliver unique solutions to your unique convention needs, and these include custom and brand-cohesive booths, prefabricated booth kits, professional assistance in installation and dismantling, and even expert feedback on design and layout. When it comes to your corporate event needs, Xpo Displays is here for you!
Modular Trade Show Displays
Some organizations look for a safe middle-ground when it comes to their convention booths—they seek the benefits of having preconfigured options ready and available, while having just enough flexibility and control over how their booths are going to look. This is where modular displays come in. Modular displays have prefabricated components that are freely movable and interchangeable, allowing you to build larger exhibits in your space or to scale down to smaller ones.
By getting yourself a modular type of booth, exhibit, or display, you get to change and arrange components in a way that works best for your space. You can keep doing this as you go from one convention to the next. Xpo Displays is excited to play a role the highly creative process of making your booth impressive and effective.
Full-Service Display Company
When it comes to event display needs, Xpo Displays has been a trusted one-stop-shop for countless businesses and organizations. Our clientele extends from convention organizers to convention exhibitors, and it has been our long-standing mission to provide them with the best signage, graphics, and display solutions for the best price.
Xpo Displays not only sees to it that you get excellent products delivered to you, we also take pride in delivering unwavering start-to-finish customer support. Our Volusia County, FL team of artists, fabricators, installers, and marketing experts work closely with you and your team throughout the entire process. From conceptualization, design, manufacturing, customization, setup, takedown, and all the way to storage for future use, we've got your back!
Free Event Booth Consultation
Conventions can be a huge melting pot of countless brands, products, services, gimmicks, and experts in your industry. If you're not focused on getting attention, it can be easy to get ignored by your target audience and just fade into the background. Well, we at Xpo Displays are determined to never let that happen to you! By providing you with eye-catching, fascinating, and engaging convention booths, we can help you stand out.
But right at the beginning of the process to success, we start with a conversation. In a free initial consultation with our Volusia County team of display specialists, we sit down and talk about who you and your company are, what you're all about, what your goals are, what marketing message you want to convey, who you most want to attract to your display, what your brand identity is, and even how much you've allotted for your convention booth budget. Once we get to see what's at the core of your project, we can then get started on your success story.
Call Xpo Displays today at (407) 519-9116 for your Free Consultation with a Tradeshow Expert!