Orlando Trade Show Exhibits
Attending an Orlando trade show, conference, convention, or expo? Xpo Displays has the experience, tools, and resources to create the attention-getting, durable tradeshow exhibits, booths, and displays you need to make your exhibition a success!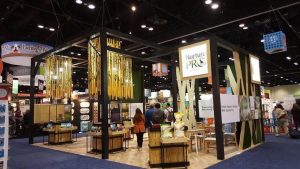 Delivering exciting, attractive, and professional trade show displays and exhibits is our specialty. Impactful trade show graphics will attract attendees to your booth, educate and excite them about the products/services your brand offers, and ultimately turn them into buyers, investors or partners.
Exhibiting at a trade show requires a marketing investment for your organization, including expenses attendance/vendor fees, travel, lodging, food, and entertainment for company representatives and sales staff, as well as their payroll. You need your trade show display to effectively support your team so that you can maximize your return on that investment.




The heart of your display is your trade show booth. Compelling, engaging, and supportive, your display must attractively provide the most important information your team needs to effectively sell your products, services, or brand at the event. We design custom trade show booths, displays, and exhibits that attract your most desired guests to your display, and provide the support your sales staff needs when closing the deal.
Call Xpo Displays at (407) 519-9116 for your free consultation!
Trade Show Display Elements
We completely customize your booth to your needs and desires. Whether you are seeking a trade show booth rental, or a completely customized trade show exhibit, we have the ability to make it your own for your event.
There are many different elements that can be included with your exhibit. Our Orlando trade show display design experts will help you determine the right blend of elements for your unique display needs.
Our in-house team of experienced trade show exhibit designers assist with all aspects of trade show booth design, from sourcing hard structures and display elements to design and printing of your sign and graphic elements. We also provide complete on-site setup of all elements, dismantle after the show, and can even provide booth storage between shows.
If you are looking for a local Orlando tradeshow exhibit partner, the choice is clear. Trust Xpo Displays to deliver for you!
Trade Show Booth Customization
Trade shows are commonly a core marketing practice for many different brands and business verticals. Some businesses may attend only one event a year, while others maintain a full calendar. Extended use can mean lot of wear (and potentially some tear) on your trade show exhibits and display elements. As your trusted trade show booth partner, we provide replacement elements, assist with updates or customization, and maintain and repair your display between shows so you don't experience any hassle or downtime.
Want to update your messaging? We can do that at any time to keep your support materials updated and relevant to your hottest, newest, and most desirable products.
With customizable elements, we can even make a rental trade show booth look like it was made just for you. We work within your marketing budget to create an attractive, compelling, and supportive display that will work hard for you.
Trade Show Organizer Partner
The exhibitors aren't the only ones who can benefit from effective event signage. Are you a trade show organizer, venue, or event planner looking for a reliable local event display company that can both provide event signage and serve as an exhibit referral partner for attendees?




From basic booth package services to entrance units, registration counters, wayfinding signage, floor graphics, lightboxes, furniture rental, hanging banners and graphics, to any other supportive or graphic element you need, we deliver, on-site and on-time. Impress your attendees, create an easy to navigate space, and support exhibitors with the resources and tools they need to have a successful exhibition at your event.
Free Tradeshow Exhibit Consultation
Xpo Displays creates eye-catching, durable, and attractive trade show displays, exhibits, and custom booths that get your brand noticed and remembered! Dedicated to making your next Orlando, FL trade show, convention, or event a roaring success; we look forward to crafting the perfect custom event display for your business and brand.
Call Xpo Displays at (407) 519-9116 for your Free Consultation with a Trade Show Exhibit Specialist!