Volusia County Event Displays
Looking for ways to attract attention, impress leads, and support your sales staff during company events? You can do this with eye-catching and impactful displays custom-crafted by trusted Volusia County display provider, Xpo Displays!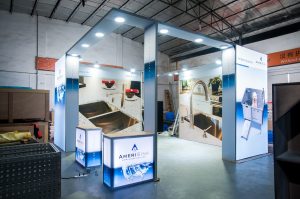 Conventions, trade shows, and other similar corporate events are excellent avenues for your business to get the visibility, leads, sales, and exposure that you need to grow your brand. If there's anything you need to be equipped with for an event, it's an event display that's specially designed to clearly convey your unique brand message, to help you engage with your target audience, and to leave people with a lasting impression of your strong brand.
An impressive and impactful display is a necessity in any corporate event, whether it's a company party, seminar, product launch, or a trade show. Though displays look or cost differently from one event to the next, the bottom-line is that they must effectively carry out their purpose:
Attract potential buyers to your display area

Effectively introduce your brand message and business to your visitors

Promote your brand

Get your visitors to purchase your services or products
And if you're looking for these results, you obviously won't get them with off-the-shelf displays and cookie-cutter designs. You'll need to get them designed, fabricated, and assembled with your brand identity, audience, goals, and budget in mind. That's exactly what we do here at Xpo Displays. Our team of designers, marketing specialists, sign fabricators, and sign installers are ready to give you custom-crafted event displays that are both attractive and effective.
Here at Xpo Displays, we see to it that every event display we produce is a clear reflection of the clients that order them, and we do this by working closely with you throughout the entire production process. We start this off with a free consultation with one of our signage specialists so that we know who you are, what you offer, what you want, what your event goals are, as well as the parameters within which you need to produce your event displays.
Call Xpo Displays today at (407) 519-9116 for your Free Consultation!
Attract Your Ideal Buyers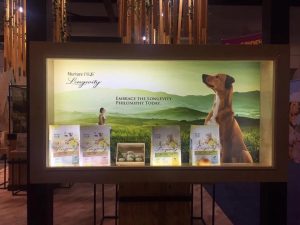 Contrary to what many people may think, the goal for your event display isn't to attract every single person to your space. The goal is actually to attract and draw in the specific group of people whose needs you're aiming to meet. But a well-designed, well-fabricated, well-installed event display by Xpo Displays can help you do exactly this despite the noise, activities, and distractions that compete for your target audience's attention.
Xpo Displays is committed to providing you with the event display that can clearly speak your brand to your targeted buyers. We do this by first knowing who it is that your products and services are aimed to serving. Once we know this, we can then work with you to design, fabricate, and assemble an event display that's uniquely you.




Whether you're looking for pop-up displays, truss systems, hanging displays, banner stands, tents, or canopies, Xpo Displays is here for your every event need. You can count on our experts to deliver excellent design, high-quality fabrication, as well as hassle-free installation and dismantling, for any event you may have.
Event Displays That Get Results
Custom event displays are more than just aesthetics. They should be attractive, yes, but they need to be functional. Event displays are created for a purpose, so it's important that, when you're at the venue and surrounded by potential customers, your display delivers. Whether you're aiming to connect with other businesses, sell more products, book more orders, etc., a bespoke event display by Xpo Displays will help you achieve your goals.
Xpo Displays has been a trusted display provider in Volusia County, FL for a long time now, and we believe this is because we make sure that every single client gets the excellent quality event display they deserve. Our team comprises talented designers, skilled craftsmen, and experienced signage installers so we know exactly what we're doing and we're ready to give you the best of what we've got.
While Xpo Displays knows quite a lot about what makes event displays effective, we also know how much it costs to participate in corporate events You have registration fees, wages, travel fees, food, lodging, and many other expenses to think about other than your event display costs. This is exactly why we are committed to giving you displays of the best quality for the best price. Xpo Displays wants to deliver event displays that look good, make an impact, and are worth every single dollar you invest in them.
Expert Design, Fabrication, & Installation
Xpo Displays is a full-service events sign, graphic, and display company, which means that we take care of you throughout the entire production process, no need to hop from one shop to the next! We design, print, fabricate, modify, install, and even dismantle high quality, eye-catching event displays, exhibits, and booths. We've been in the industry for a long time so we know just how important it is for you to make a great impression in the events that you join, and we are here to help you achieve that.
Our service kicks off with a free initial consultation where one of our event display experts sit down with you and learn necessary details like what your business is about, what your event goals are, what your ideas and plans for the display you have in mind, as well as what limitations you might have regarding the production of your display. Once our staff has a clear picture of how you plan to utilize your event space, they can offer you expert and practical advice concerning the display style, elements, design, materials, etc.
Here at Xpo Displays, we aim to deliver event displays that are custom-made for our clients. We design them to reflect your business identity, speak to your target audience, communicate your brand message, and promote your products/services. We do this by working with your branding elements and style sheet as we create your display designs and components. We also see to it that each design we produce is reviewed and approved by you and your team.
When we have your go-ahead, our team of fabricators then get to work and bring the ideas to life. Xpo Displays's support doesn't stop at delivery. We have a team of professional display installers who ensure that your exhibits, booths, and displays are assembled and installed properly, securely, and quickly.
If you're looking for high quality, custom-crafted, professionally installed displays that comes with excellent start-to-finish customer service, then Xpo Displays is the perfect partner for any event.
Event Display Rentals
As an established display provider, we at Xpo Displays have worked with enough clients and have been to enough events to know that not every business wants to spend the time, money, and energy to purchase their own custom event display, and we totally understand that! That's exactly why event display rental is part of the services that we offer.
With the wide selection of event displays to choose from, you can enjoy the benefits of having a high-quality display while saving money! You also don't have to worry about lugging banners, stands, displays and other accessories with you as you travel to the event venue. Xpo Displays will take care of that for you. Our services include installation, dismantling, and even storage for your display.
By partnering with Xpo Displays, you can get an impressive event display while saving yourself the hassle of purchasing, transporting, and waiting for it.
Quality & Results, Delivered On Time
Having been in the Volusia County event exhibit industry for a long time, we at Xpo Displays know just how important excellent quality, eye-catching, custom event displays are in any business's journey to a successful corporate event. That's exactly what we're committed to delivering to each of our clients.
If you're looking for an accomplished, experienced, and dependable event display fabricator to partner with on your journey to promoting your brand, Xpo Displays is the partner you need.
Contact Xpo Displays today at (407) 519-9116 for your Free Consultation!