Broward County Trade Show Exhibit Design
Looking to get your potential market's attention with attractive and effective custom trade show exhibits? Xpo Displays is the perfect company to help you out with this!
We at Xpo Displays have been in the trade show industry for a long time now, so we understand that your display needs to be designed with your target audience, your brand message, and your business goals in mind. We understand that your exhibits not only have to look and feel nice, they also need to be cohesive.
We want you to have trade show exhibits that get noticed, clearly convey your message, and let your audience know and appreciate the products or services you offer…and we can do all that in the limited space you're given in a trade show. By carefully learning what your needs, objectives, timeline, and limitations are, we get to deliver the trade show exhibit design that can best meet your needs.
If you want to work with a trusted expert in trade show exhibits, one that can provide you with exactly what you need—from prints, vinyl banners, dimensional signs, furniture, accessories, lighting, etc.—then Xpo Displays is here for you!
Call Xpo Displays today at (407) 519-9116 for your Free Consultation!
Customized To Reach Your Goals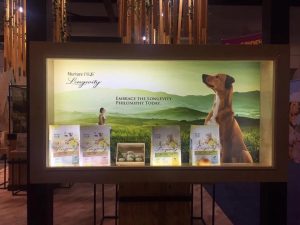 Having a pretty trade show booth is great, but when we come down to it, what you really need is one that's specifically designed to bring in the results that you want it to. Do you want it to increase brand awareness? Do you want to bring in more targeted leads? Do you want to book more orders or sell more products? Do you want to partner with other businesses?
Here at Xpo Displays, we don't deliver exhibits that look nice…we make sure that what you get is customized to meet your needs. We modify your trade show space and design it in a way that tastefully delivers results—whether that's a higher footfall, more customer interaction, or a higher sales profit. Xpo Displays gives you the trade show exhibit design that simply works for you.
Of course you can DIY your way through designing your trade show exhibit, but it's important to note that there are a host of factors you need to consider if you want your space to be practical, eye-catching, engaging, and impactful. Our trade show display experts here at Xpo Displays are more than ready to help you achieve the most ideal design with the most ideal materials, color palette, layout, lighting, flooring, furniture, accessories, etc.
We look forward to providing you with the trade show exhibit design that reflects your brand and helps you achieve your event goals.
Maximize Your Budget
Attending a trade show and setting up an exhibit there opens your organization to a world of opportunities! From brand awareness to learning from the competition, it is one of the most effective marketing platforms for Broward County businesses. But we're not going to lie, attending a trade show will require you to shell out some money: registration fees, transport fees, travel expenses, food and lodging expenses, It's an investment and it only makes sense that you'd want to make this a worthwhile one.
Value for your money is what we at Xpo Displays aim to give you. As a team of trade show exhibit designers, craftsmen, and installers, we are committed to helping you minimize expenses and maximize gain. We offer a wide selection of exhibit types, materials, and accessories that you can choose from to make sure that everything's on budget, on time, and on point.
If purchasing a trade show exhibit of your own isn't the most financially practical way to go, then you can go with exhibit rentals. Xpo Displays offers a wide variety of high-quality, tastefully designed, and customizable exhibit kits for you…yet another way to minimize cost while maximizing impact. When it comes to your trade show exhibit needs, we've got your back!
Ideal Partner For Trade Show Organizers
Xpo Displays not only caters to businesses that want to attend trade shows, we also partner with trade show organizers in designing an impressive event! We provide Broward County, FL trade show organizer with the wayfinding, signage, graphics, and display elements that they need to make their event the most convenient and engaging for attendees and exhibitors.
On top of being a reliable supplier for organizers, we also offer practical tips, honest feedback, and professional advice when it comes to using signage elements for convenience, laying out the trade show floor for efficiency, and designing the venue for practicality and impact. We are passionate about making your event a huge success.
From flags, banners, hanging signs, displays, registration booths, wayfinders, and promotional signage, Xpo Displays has the exhibit solutions every trade show organizer needs. We're here for you.
Free Trade Show Design Consultation
If you want your trade show to be a success—something worth every single dollar you invested in it—you're going to need a trade show exhibit that catches your target audience's attention, draws them into your space, gets them engaged with your sales team, and convinces them that you have what they need. You're going to need an exhibit that converts them from curious passersby to confident buyers. And you're going to need professionals to do this effectively. We at Xpo Displays have been in the trade show exhibit design industry for a long time now. We're the go-to display company when it comes to event displays here in Broward County…we know how trade show exhibit design works and how it can greatly impact your guests and potential customers.
Whether you're exhibiting in a trade show or organizing one, Xpo Displays can give you the perfect design to meet your needs, goals, deadlines, and yes you're budget too. Talk to any of our trade show exhibit design experts now!
Contact Xpo Displays today at (407) 519-9116 for your Free Consultation!