Miami-Dade County Custom Event Exhibit Design
Effective and targeted custom event exhibits designed by local Miami-Dade County custom trade show display company, Xpo Displays are sure to get your brand noticed!
When designing your display, we must understand who you want to reach, how to attract their attention, and how to best convey your message so that they understand and appreciate what you have to offer.
That's a lot to ask of one little 10 x 10 block of space.
As trade show exhibit designers, we understand the importance of not only the overall look and feel of the display, but how all of the elements must work together to create a cohesive feel and strong message. We work to understand your needs, goals, timeframe, and budget in order to deliver the right combination of printed graphics, dimensional signage, banners, construction elements, furniture, lighting, and more.
For a reliable Miami-Dade County, FL trade show exhibit designer that understands the nuance of creating an impactful space, trust Xpo Displays to deliver success for you.
Call Xpo Displays today at (407) 519-9116 for your Free Consultation!
Customized To Reach Your Goals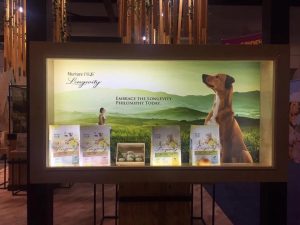 It all begins with an open discussion where we talk about the event, your brand and products, and what your goals are. Do you want to raise awareness for your brand? Are you looking to sell a specific product or set of products to retail customers? Are you looking to attract investors?
We take these goals, along with your current branding and marketing materials, your messaging, and your ideas for how you want to interact with customers within your space to create a design that works for you, specifically customized to your needs.
There are many elements that exhibitors fail to consider when DIY designing their trade show displays. Lighting, shadow boxes, product displays, seating areas, flooring, and flow are all elements that impact the mood and overall feel of your exhibit. You must also consider the way both your sales team and attendees will interact with the display, and how you want them to interpret the information you provide.
Our experts are experienced and skilled at maximizing your vision with effective elements, creative design, and an overall look that truly reflects your organization and supports your event goals.
Maximize Your Budget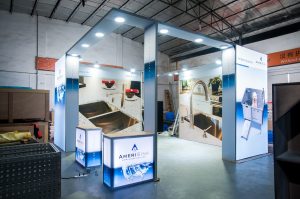 As craftsmen, designers, and professional exhibit installers, we ensure that your event display is attractive and effective in communicating what your brand, products, and/or services are all about. Attending a trade show or convention means a substantial investment; one that you would like to realize a return.
Other than the display, you have convention exhibitor fees, sales team payroll, travel, food, lodging, entertainment, and any expenses associated with wining and dining potential buyers and investors. All of that adds up. An off-the-shelf display simply won't deliver the exposure and interest you need to make your exhibition successful and profitable.
While we can design completely custom trade show displays for your event, there are also options for utilizing rental display elements. This can be a great way to reduce your cost on items that are only needed for a short time, or that are readily available for rent at your next event. This could include display items like structures and forms to decorative items like lighting, flooring, podiums, chairs, tables, and more.
Expert Event Organizer Partner
We not only design trade show booths, we help you design the perfect event! If you are an event planner, organizer, or venue looking for signs, graphics, and display elements that make it easier for your attendees and exhibitors to navigate your space, we can help!
From helping you understand the different ways signage can be utilized to completely designing your trade show floor for maximum efficiency and flow, we are the only Miami-Dade County display designer you need to ensure a successful and unforgettable event.
We provide wayfinding signage, promotional signage, entry displays, welcome stations, exhibitor information booths, and any other element you could possibly need. We look forward to designing the perfect event for you!
Free Display Design Consultation
An attractive, effective, and impactful trade show exhibit display is crucial to catching the attention of attendees and converting them into buyers. We understand the nuance of trade show exhibit design, how the form, flow, and function of your space greatly impacts the behavior of your visitors and guests.
For a display design that helps you meet your goals without breaking your budget, talk to the Miami-Dade County trade show display design experts at Xpo Displays!
Contact Xpo Displays today at (407) 519-9116 for your Free Consultation!