Hillsborough County Trade Show Lighting Rental
For most business owners, a trade show can be full of fun, learning, and opportunities. However, it can also be a place for stiff competition; and that's definitely something you should be ready for. In order for you to achieve your trade show goals, you've got to see to it that your display, exhibit, or booth stands out and gets noticed by your target audience.
We at Xpo Displays have been in the trade show industry for a long time now, and if there's one thing we've noticed is that lighting is often overlooked and trade show floors are often quite dark. This is exactly why trade show lighting is something that we're so passionate about. A little brilliance can make a lot of difference, and Xpo Displays is committed to helping you achieve the best trade show results by providing you with high quality lighted elements that are both aesthetic and functional.
No matter what industry you're in and what business you run, you deserve only the most effective, most attractive trade show exhibits, and we can help you with that. Xpo Displays is ready to deliver lighted furniture, racks, decorations, and other accessories of the best quality and for the best price
Call Xpo Displays today at (407) 519-9116 for your Free Consultation!
Illuminate Your Trade Show Space
Every business exhibiting at a trade show is always looking to be in the limelight, and they should! 81% of trade show attendees are people who have buying authority—they mean business—and if you get noticed by them, you get a big chance at promoting your brand, generating quality leads, and making a lot of money.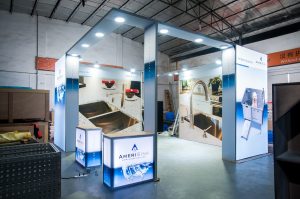 Xpo Displays is a trusted trade show elements provider here in the Hillsborough County area and we have what it takes to keep your booth away from getting stuck in the shadows. With our experienced team of trade show display experts, vast selection of lighted elements, and start-to-finish customer support, Xpo Displays is ready to give your trade show time a bright future.
We at Xpo Displays don't want to just give you whatever lighted elements are available, we want you to have the ones that best suit your display and the ones that connect with your target audience most effectively. This is why we make sure we get a good grasp on your business identity, branding, overall booth design, and budget before we make any recommendations and advice. Xpo Displays understands that every business's trade show needs are unique, which is why we offer a wide selection of services that you can choose from.
Whether you're looking for chairs, couches, bar counters, tables, racks, shelves, lamps, or other lighted elements for your trade show booth, Xpo Displays is ready to deliver exactly what your brand needs. If you're looking for more than just trade show lighting, Xpo Displays has custom-made displays, exhibits, booths, and other accessories for sale and for rent as well!

LED Lighting Elements
Xpo Displays has been an established trade show solutions provider here in Hillsborough County, FL, so we know that product variety, aesthetics, quality, and availability aren't the only considerations when it comes to getting trade show lighting. We understand that price, convenience, and practicality come into play as well. And this is why we give you as many options as we possibly can to ensure that your trade show lighting needs are met whenever, wherever, and however.
If you're looking to joining multiple trade shows in a year and want to have LED-lighted accessories in your booth every time, then buying lighted elements from Xpo Displays may be a great option for you. You get to have your trade show lighting and you get to use them at any event and in any location that you want to.
However, if you don't think you'd want to go down the purchasing road, Xpo Displays also has a wide selection of lighting elements available for rent. We take care of transporting the accessories as well as installing, dismantling, and storing them, all for a price that fits comfortably in your budget.
Here at Xpo Displays, we want you to have the best results for your trade show, and this includes high-quality lighting elements, excellent customer support, unbelievable convenience, and a lot of value for your money. We look forward to delivering the best solutions to your trade show needs!
Free Consultation
Selecting the right trade show lighting elements for your booth is a bit more complicated than many business-owners might expect. It's not as easy as going inside our shop here in Hillsborough County and simply picking and choosing anything that you find attractive. It's important that your lighting accessories complement your brand and complete the overall look and appeal of your trade show exhibit. And for this, you're going to need a bit of help from the experts.
Here at Xpo Displays, we make sure that we work closely with all our clients from start to finish. We are passionate about giving you the insight, advice, and service that you deserve. We start off the process by having a free initial consultation. This is where we sit down and discuss key details about your project as well as questions and concerns you might have. Once we have a clear picture of who you are, what you offer, what your brand identity is, what you expect to get out of your trade show booth, and what limitations you have, we then show you available lighting elements options that can best meet your business needs.
And we don't just leave things there, either. We take care of preparing, transporting, setting up, taking down, and storing the trade show lighting elements for you. Xpo Displays has been in the industry long enough to know that you've a lot of important things to worry about, so we do our best to make your trade show lighting as hassle-free and worry-free as possible.
We want to be your choice and partner for trade show lighting here in Hillsborough County, and we know that we can deliver the best service for it, too. We look forward to meeting all your trade show needs!
Contact Xpo Displays today at (407) 519-9116 for your Free Consultation!