Volusia County Custom Trade Show Displays
Turn heads, drop jaws, attract new buyers, and support your sales team with effective, targeted custom event exhibits by local Volusia County custom trade show display company, Xpo Displays!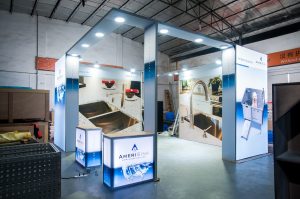 Attending a tradeshow, convention, or other industry event is an impactful way to grow your business, get your products noticed, and improve visibility for your brand. However, to have a successful showing at any event, a custom trade show event display that speaks to your message and supports your sales team is imperative.
An effective display is one that not only catches the eye and attracts potential buyers to your display, it must also support your sales staff in conveying your message, promoting your brand, and ultimately selling your products or services. Our event exhibit experts work with you to understand your goals for your event attendance, the style and look you want to accomplish with your display, and help you simplify your messaging to create a display that works for you.
From the initial consultation through to custom design, professional fabrication, and expert on-site installation, our team of display experts are dedicated to ensuring you the best possible chance of a successful event. When you need impactful, effective event signage that looks great and works hard, we are the Volusia County, FL trade show display partners for you!
Call Xpo Displays today at (407) 519-9116 for your Free Consultation!
Attract More Targeted Buyers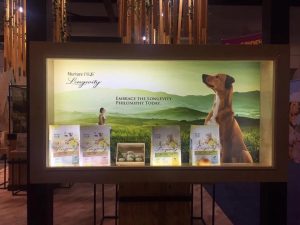 Getting more qualified visitors to your booth is the primary goal of most trade show and convention exhibits. With all of the noise, excitement, and competition on the trade show floor, attracting attention to your booth is paramount.
We work to understand not only your key value points for your products and services, but also the type of buyer or investor you are seeking to attract to your booth. Once we understand who you are looking for, we will craft a custom display designed to pique their interest and share your most compelling sales points.
We are not a one booth fits all exhibit sales middle-man. We are a custom display fabrication facility, working directly with you and your vision to create specific, intentional, and effective display elements that are specific to you, your brand, and your event.




From lightboxes and electrical elements to product & tabletop displays, supportive banners, dimensional lettering, and all other aspects such as tables, chairs, carpeting, podiums, and any other items you desire or require, we design complete displays, and take care of everything so you don't have to worry about whether or not every aspect is remembered, properly set-up, and done on time.
For an Volusia County event display partner you can count on to handle every aspect of your trade show or convention display, contact us today for a free consultation and quote.
Effective Displays That Sell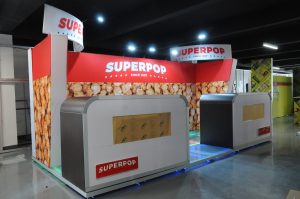 Custom trade show displays have to be more than attractive; they need to be functional. Once they have caught the eye and attracted the interest of a potential buyer, certain display elements are then required to support your event staff or sales team in effectively conveying your message. Whether you are looking to make connections with potential investors or seeking ready-buyers for your products, we design exhibits that are specifically created to help you accomplish your goals.
As craftsmen, designers, and professional installers, we ensure that your display is both attractive and effective in communicating what your brand, products, and services are all about. We understand that attending a convention or trade show is a substantial investment for your business; one that you would like to realize a return.
Beyond the display itself, you have convention fees, sales team wages, travel, food, entertainment, lodging, and any expense associated with wining and dining potential clients, investors, or buyers. All of that adds up. A lack-luster, off-the-shelf display won't provide the exposure you need to make your event attendance both successful and profitable.
We think of everything. We make sure that no point is unbulleted, no light is crooked. We believe in accomplishing perfection for our clients and look forward to delivering an unforgettable display for your brand and business.
Expert Design, Fabrication, & Installation
As an Volusia County custom display company, we design, manufacture, and install eye-catching, show-stopping trade show exhibits. As a full-service sign, graphic, and display fabricators, we understand the importance of having a professional handle such an important aspect of your trade show, expo, or convention attendance.
Starting with our initial free consultation, our custom trade show booth design experts listen to what your business is all about, what your goals are for your event, how you plan to utilize your display as a supporting element, your trade show booth ideas, and ask specific questions to help you get the best possible display for your needs and budget.
Our experts are very familiar with Volusia County event space such as the Orange County Convention Center and the Orlando World Center, so we can help you identify the right style and elements to maximize your impact within that space.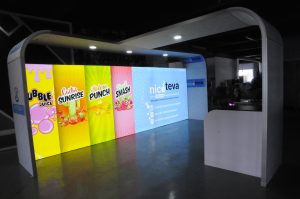 Once our exhibit designers understand your needs, desires, budget, and business, we custom create a design specific to you. We utilize your branding elements, key sales statements, and unique marketing messages to create an impactful and effective expo display design for your review and approval. Once everything has been tweaked to your liking and finalized, our display fabricators bring your vision to life.
After all elements have been professionally produced to the agreed specifications, our expert display installers will install your exhibit on-site. Avoid the unforeseen struggles and last minute hassles of exhibit displays! Instead of rushing to set everything up, when your sales team shows up for the event, everything will be ready and waiting for them to familiarize themselves with the setup and perfect their sales pitch.
We remembered the extension cord. We know what you need, and we have it there on-time and professionally finished so you can focus on making your event attendance a success.
Trade Show Exhibit Rentals
Looking for trade show display rentals? Save money by only purchasing the print elements that you need, and rent the rest! We have a full selection of rental exhibit options, and will discuss how booth rentals can help you manage your event budget more effectively.
From renting an entire pre-designed exhibit to individual elements, we make it easy for you to manage not only your shipping and event logistics, we make sure you have all of the right elements for a successful show. Don't struggle with lugging banner stands, modular displays, pop-up displays, or other elements on planes, trains, in cabs, or on buses. We offer both trade show installation and booth breakdown and dismantle labor, and can ship any purchased elements to you after the event, or can even provide booth storage between events.
With Xpo Displays, we provide a flexibility that makes it easy for any business to afford and benefit from a custom exhibit. A customized rental booth is a great option for those seeking an Volusia County trade show booth that won't be forgotten.
An Event Planner's Dream Partner
Looking for a reliable Volusia County, FL exhibit display partner that you can recommend to exhibitors? Want to offer special booth design & fabrication pricing as an added benefit to attract new exhibitors to your event? Need help conceptualizing and installing large format displays for your event?
We partner with Volusia County event planners to help them create an unforgettable event for their exhibitors and attendees. We can handle everything from managing your complete event graphics package, including design, production, and on-site installation to working with your individual exhibitors to create their own presence on the tradeshow floor.
If you need floor graphics, wayfinding signage, hanging banners, electrical signs, sponsor boards, or any other branding, promotional, or supportive element, we are your complete Volusia County event signage partner.
Quality & Results, Delivered On Time
At Xpo Displays, we know that high-quality, attractive custom trade show displays are vital to a successful exhibition at a tradeshow, convention, or expo. That is why Xpo Displays is committed to delivering high-quality, results-oriented exhibits and display elements that work for you.
If you need a dependable Volusia County tradeshow display manufacturer that you can trust to provide a professional display, completely set-up and ready on-time, Xpo Displays is the right partner for you.
Contact Xpo Displays today at (407) 519-9116 for your Free Consultation!