Ft. Lauderdale Convention Exhibit Design
Conventions are the perfect events for businesses looking for opportunities to attract and engage targeted buyers, interact with industry experts, connect with other businesses, and even take a look at your competition. But it's important to know that if you want to get all these done, you'll need to be prepared with attractive and effective custom convention exhibit designs. This is where Xpo Displays comes in.
Xpo Displays has been a trusted event display provider here in Ft. Lauderdale and we are proud of the work that we do, delivering convention exhibit designs with each client's brand identity, business goals, target market, timeline, and budget in mind. Over the years we've learned that the only way for us to give our clients the display, exhibit, and booth designs that they need is by carefully learning who they are, what they need, what results they're expecting, what their limitations are, etc. We take these details and use our talent, tools, and technology to provide you with the designs most suitable for your needs.
If you're looking for exhibit designs that attract, engage, promote, and convince in corporate conventions, Xpo Displays has what you need. We have vinyl banners, flags, outdoor signs, wayfinders, dimensional letters, lighting, furniture, accessories, panels, trusses…we've got your back!
Call Xpo Displays today at (407) 519-9116 for your Free Consultation!
Customized To Reach Your Goals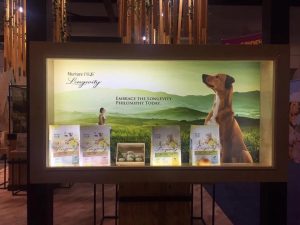 Whether you're an exhibitor or an organizer in a corporate convention, you're going to need an exhibit that's specially designed to meet your convention needs and expectations. And Xpo Displays can do that for you. If you need your exhibit design to promote your brand, bring in more leads, get more people to purchase from you, convince other businesses to partner with you, we're here to create the perfect custom convention exhibit design to bring in the results you're looking for.
Xpo Displays is not just about fancy, nice-looking exhibits…many other display companies can do that. What we're passionate about is customizing your convention space, exhibit, and design so that they can effectively meet your needs and deliver the results you're expecting. Whether it's higher customer footfall, more informative displays, more products sold, Xpo Displays is here to custom-craft the convention exhibit that's a perfect fit for your business and your goals.
From design, materials, layout, fabrication, assembly, installation, and even dismantling, we're all about giving you the convention exhibit that's a clear and accurate reflection of your brand. Our goal is to help you achieve yours.
.
Maximize Your Budget
Conventions are excellent places of opportunity for businesses…opportunities for sales, networking, learning, training, strategy, and promotion. But conventions are expensive and if you want to attend or exhibit in one, you're going to need to spend some money. There are registration fees, transport fees, food and lodging expenses, travel expenses, sales team wages, per-diem allowances, and of course, costs for your convention exhibit. And if you're smart, you're going to invest your money in something that can actually bring in results…you make it a worthwhile investment.
We at Xpo Displays have a strong commitment to giving value for money. We are passionate about helping you maximize gain without having to maximize cost. We are a strong team of convention exhibit designers, fabricators, installers, and marketing specialists and we know the role your convention exhibit design plays in successfully achieving your business goals. We want to make every single dollar you put in worth it.
Here at Xpo Displays, you get to choose from a wide selection of exhibit sizes, materials, types, and accessories. We want you to be equipped with an exhibit design that perfectly suits your brand identity, your event goals, your target market, your deadline, and your budget. Impressive, effective, impactful, and practical…we're here to meet your every need.
If buying your own convention exhibit isn't the most practical thing to do financially, Xpo Displays offers exhibit rentals that you can modify and utilize. Our rental selection comprises tastefully designed, sturdily built, and customizable exhibit systems that you can check out. Here at Xpo Displays, we want to give you the best convention exhibit designs for the best price.
Ideal Partner Convention Organizers
Xpo Displays caters to a wide clientele, including convention organizers. Versatile and highly professional, we are the go-to signage, graphics, and display provider for many convention organizers here in the Ft. Lauderdale, FL area. As a company that also works for convention exhibitors and attendees, we have years of knowledge and experience when it comes to making an event engaging, convenient, informative, and organized.
By providing you with a wide selection of signage and booth options— flags, vinyl banners, registration booths, hanging signs, wayfinders, outdoor signs, promotional signs—Xpo Displays can help you make your event a huge success. Our team is also more than happy to give you honest insight, professional advice, and practical recommendations about how you can use, arrange, lay out, and design your space and your elements in order to maximize your convention's overall appeal and impact.
Whether you're organizing a trade convention, business convention, gaming convention, fan convention, or any other event, Xpo Displays is here to meet all your signage, graphics, design, and display needs.
Free Convention Design Consultation
If you're looking to make your Ft. Lauderdale convention experience a successful and productive one, it's important that your convention exhibit design effectively draws your target audience into your space, gets them engaged with your team, and convince them to purchase or sign up or book an order. Your space needs to be designed in a way that converts prospects into paying customers. And that's exactly what we at Xpo Displays can do for you.
You can be exhibiting in a convention or you can be organizing one, Xpo Displays will be here to provide the solutions to your every signage, design, graphics, and display need. With our experience, expertise, and exquipment, we can give you the best service, the best support, for the best price. And it all starts with a free initial consultation…talk to any of our convention exhibit design experts now!
Contact Xpo Displays today at (407) 519-9116 for your Free Consultation!