Convention Displays
Conventions are a whole lot of fun, learning, and opportunity, and most organizations see to it that they attend at least one convention in a year. That's not a bad idea, actually. Conventions are high-value events where ideas, inspiration, key insight, brand promotion, lasting connections, and business growth opportunities can happen. And while organizing or participating in a convention does require you to shell out a bit of money, they are definitely a worthwhile investment.
We at Xpo Displays are here to make every business or organization's experience a successful one. We do this by providing every signage client with custom displays uniquely designed, professionally fabricated, and meticulously installed to meet their conventions needs. Convention displays by Xpo Displays are custom-crafted by the best local display experts to not just look great, but to bring in results as well. They help you convey your brand message clearly and effectively, they help you engage in meaningful conversations with your target audience, and they help you promote and reinforce a strong brand image.
Whether it's a trade convention, a business convention, or even a fan convention, having an impressive and impactful booth, display, or exhibit is key to getting the results that you're after:
Attract potential buyers, clients, or members to your space

Effectively introduce your organization's brand message to your visitors

Promote your brand

Get your visitors to purchase your services/products or to have them join your institution
When it comes to organizing and participating in conventions, generic, run-of-the-mill displays just won't do your brand justice the way custom-crafted ones by Xpo Displays do. Our team of graphic artists, printers, fabricators, installers, and marketing specialists are ready to give you the best display for the best price. How we do this includes working closely with you and your team throughout the entire process. From the free display initial consultation, all the way to dismantling and storage, Xpo Displays is here for you.
Call Xpo Displays today at (407) 519-9116 for your Free Consultation!
Attract Your Target Audience
Many businesses and organizations may be tempted to attract the attention of every single person in the convention, and that may bring them a lot of exposure. But the smarter, more practical way to go about that would be to draw in a targeted group of consumers whose needs are what you aim to meet. Here at Xpo Displays, we design, manufacture, and assemble displays that get your brand noticed specifically by your target audience despite noise, competition, and distraction.
Xpo Displays is passionate about providing you with convention displays that creatively reflect who you are what you are all about. We successfully helpclients clearly convey their unique brand message to their unique target audience. How we do this starts with getting to know our clients through a free initial consultation with one of our experienced convention display experts. We get to know who you are, what you do, whose needs you aim to cater to, and even the budget you need to work with. We use this information as we create the perfect convention display for you.
Whether you're looking for vinyl banners, retractable displays, registration booths, hanging signs, electronic displays, or wayfinding signs, Xpo Displays has what you need. We can design, fabricate, customize, install, dismantle, and even store them for you!
Impressive & Impactful Convention Displays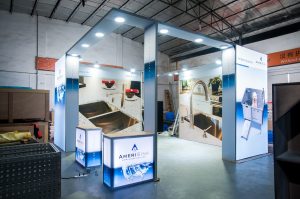 It takes more than fancy looks to call your display an effective one. Yes, they should be eye-catching, but they should also be able to effectively perform what they were created for. So whether your goal is to connect with other organizations/businesses, book more clients, sell more products, or promote your brand, it's important that your convention display is specifically designed and created to function the way it's supposed to.
We at Xpo Displays have been a trusted display company locally for many years now. We've successfully handled numerous convention projects for clients all over the state and we believe that this is because we're very keen on providing each one with excellent quality displays for the most reasonable price. Xpo Displays has an entire team of experienced designers, craftsmen, installers, and marketing experts that all work together to make sure that every single client gets the best of what we can offer.
As a business, we've also experienced joining conventions and other corporate events. We know what it's like to prepare for it creatively, physically, and financially. There are a lot of things you need to spend on like registration fees, sales team wages, travel expenses, food, lodging, transport fees, etc. This is why our graphic experts are passionate about delivering our clients the most effective convention display possible and we see to it that it's well within your budget. Here at Xpo Displays, we want your convention display to be one less thing you can worry about. You can leave the magic to us!
Rental Displays For Conventions
Xpo Displays has been in the exhibit industry for a long time now and we know that not all organizations want to spend the time, resources, and energy it takes to purchase their own with a custom convention display. And maybe you're one of them. Perhaps you don't join conventions very often and a display would cost too much for something that's going to be used just once or twice. Perhaps your convention is right around the corner and you can't afford to wait for your own design to be fabricated. Whatever your reasons may be, Xpo Displays totally understands! This is exactly why we offer display rental services to our clients.
We have a vast selection of convention display options to choose from. You can save money without having to settle with low-quality display solutions to your event needs. By renting a convention display, transport fees, heavy luggage, installation, dismantling, storage, and travel discomfort are no longer your worries. We at Xpo Displays will take care of all that for you. By partnering with a trusted local display provider such as Xpo Displays, you can save yourself the hassle of purchasing, transporting, and waiting for a custom convention display without compromising its quality and impact on your audience.
Full-Service Display Company
Xpo Displays has been an established signage, graphics, and display provider long enough to know that outstanding customer support is one of the key ingredients to a successful partnership between us and our clients. And this is why taking care of you throughout the entire convention display production process is a top priority. You don't have to go from one graphic shop to another because, as a full-service display company, we'll take care of you.
Here at Xpo Displays, we take pride in the fact that we design, fabricate, customize, assemble, install, dismantle, and even store all types of displays for all types of events for our clients. Our partnership starts off with a free initial display consultation where we sit down with you and discuss important details about your project so we can get a clear understanding of what we're working on—what your organization is all about, who your target audience is, what message you want to send out, what your goals are for the convention display, how you plan to achieve them, and even what limitations you'll need to work with when it comes to your convention display.
We use the information that we gather and come up with possible solutions that could meet your convention needs, and we provide you with expert opinion, practical advice, honest feedback, and available options about the display that can help you make the most of your space in the event.
Xpo Displays specializes in convention displays that are custom-crafted to meet every client's unique needs. We work with your branding elements to create a convention display design that creatively and clearly conveys your unique brand message to your target audience and ultimately convinces them to experience what you can offer.
Any design we create is sent to you for review and approval. And if we get the go-ahead from you, we send the proposal off to your team of skilled fabricators so that they can bring the plan to life. Once the display is ready, Xpo Displays takes care of prompt delivery as wells as swift and secure on-site installation. But our support doesn't stop there! Xpo Displays also takes care of dismantling for you and we can store your displays for future events.
If you're looking for smart brand-cohesive designs, excellent quality displays, and unwavering customer support, Xpo Displays has it for you and we're excited to be your local display provider for all types of events.
Free Convention Display Consultation
Our goal is simple: Help every single client in achieving their own goals for a successful convention. We do this by providing highly impressive and highly impactful convention displays. We work with your vision, ideas, branding style guide, timeline, and budget to produce something that reflects your brand identity and speaks your message to your target audience. And we see to it that everything is good to go on time and on budget.
If you're looking for talented, experienced, and reliable convention display company to partner with in your journey to promoting your brand, Xpo Displays is here for you!
Call Xpo Displays today at (407) 519-9116 for your Free Consultation with a Tradeshow Expert!