Clearwater Event Booths
The goal is simple: Make every client's space interesting, impressive, informative, and eventually lead-generating. This is what we at Xpo Displays have been committed to doing for many years now and how do we do it? With beautifully designed, professionally fabricated, and strategically set up event booths.
Events such as expos, trade shows, conferences, and conventions provide you with excellent opportunities to connect to your target market, take a good look at your competition, trade with other businesses, and have valuable exchange with industry experts. If there's anything Xpo Displays is passionate about, it's helping corporate events succeed. By doing so, we help businesses get their brand message across, we help organizers create a successful event, and we help buyers and investors find the services and products that they're looking for.
We do this by providing excellent quality event booths, displays, exhibits, signages, and graphics that clearly convey your brand message, attract your target audience, engage them in your space, and convince them that you have the solution to their needs. The best part? We do these according to your timeline and budget.
As a trusted Clearwater custom event booths provider, Xpo Displays takes care of our clients throughout the entire process. From conceptualization, design, fabrication, customization, installation, and even dismantling, we've got you covered.
Call Xpo Displays today at (407) 519-9116 for your Free Consultation!
Fully Customized Event Displays
Having an excellent quality event booth beautifully custom-crafted by Xpo Displays in your space can be a huge plus for your business. You don't just get the usual pull-up banners and vinyl backdrops. What you get is the ideal booth according to your branding, business goals, target market, space, and (of course) your budget. We take these and use our expertise and experience in the events industry to come up with the perfect unique booth solution for your unique needs.
If you think that purchasing a booth custom-fabricated for your event is out of the question and way beyond your expense limit, Xpo Displays has a solution for that too! As a full-service signage, graphics, and display provider, we at Xpo Displays have a wide selection of booth elements and structures for rent that are available for customization. This service is freely offered to businesses that wish to lower expenses for their event booths without having to compromise the impact, effectiveness, and appeal.
If you want to know what event booth options are available to you, these can be discussed during your initial consultation with us. We sit down and talk about what exactly you expect us to create for you as well as what limitations we need to work with.
Prefabricated Booth Kits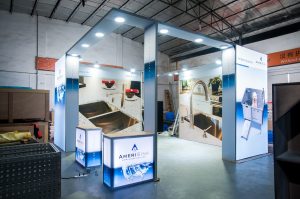 If you're looking for a simple, hassle-free option for event exhibits, booths, and displays, then a prefabricated booth system may be what you need. Here at Xpo Displays, we offer ready-built event booth kits that are ready for installation. Want to set up the booth by yourself? You shouldn't have a hard time doing this as they are designed to be easily assembled and installed. The elements that our kits contain are predefined and can be customized to suit your plans for the space. Otherwise, our team of professional installers here at Xpo Displays are ready to provide on-site installation wherever you are in the country.
We at Xpo Displays don't want to deliver just any booth to our clients. Our goal is to make sure that every booth we provide meets every client's unique goals and needs. This is why we offer a wide variety of options that you can choose from. Whether you're looking to purchase a fully customized event booth, or to rent on that's already made, or to go for the prefabricated booth kits, we make sure that what you get is highly impressive and highly
Modular Trade Show Displays
Modular event booths, displays, and exhibits by Xpo Displays are a wonderful blend of customization and prefabrication. We provide a wide variety of prefabricated elements that are freely interchangeable. They allow you some control and flexibility with the booth design and layout than a typical preconfigured booth system would.
Here at Xpo Displays, we want to make booth setup, customization, and layout easy and even enjoyable for all our clients. Modular exhibits are one way we do that. By being able to change and arrange your booth layout as you go from one event to the next, you get to make your space more attractive, more relevant, and more engaging for that particular event.
Full-Service Display Company
Xpo Displays is an established Clearwater, FL provider of event exhibit solutions, and we've provided countless clients with their event display needs at the best quality and for the best price. Whether you're an exhibitor looking to attract and impress your market, or an event organizer looking for a reliable supplier of event signs, graphics, and displays, Xpo Displays is here for you and we have what you need.
We not only provide you with high-quality products, we also provide excellent start-to-finish customer support. Our team of event booth experts here at Xpo Displays take care of your needs all throughout the process—from initial consultation, design, fabrication, customization, installation, dismantling, and even to storage for future use. All this while taking into consideration your brand identity, objectives, timeline, budget, space, venue, and other needs. We want to give you the most impressive, effective, and engaging event booths so that you can get the attention, interaction, and sales that you aim to achieve.
Free Event Booth Consultation
A lot of things happen in events like trade shows, conventions, conferences, and product launches. Getting your brand noticed and remembered amidst all the people, booths, noise, gimmicks, promotions can be a huge challenge. Here is where Xpo Displays comes in to help. By providing you with a highly attractive and highly impactful event booth, we help stand out from competition and distractions.
With the perfect blend of aesthetics and substance, event booths by Xpo Displays are designed, fabricated, and installed to speak your brand message and to bring in your target audience. We look forward to being your partner in a successful Clearwater event!
Call Xpo Displays today at (407) 519-9116 for your Free Consultation with a Tradeshow Expert!