Miami-Dade County Event Exhibits
Do you have a convention, conference, trade show, expo, or other event coming up in Miami-Dade County? You're going to need effective event exhibits to catch potential clients' attention, engage them, impress them, as well as support your sales staff. That's what we at Xpo Displays are good at!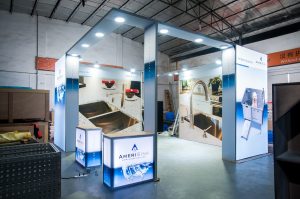 As an established sign, graphics, and display fabricator, Xpo Displays is dedicated to helping other businesses reach their goals and grow. We do this by providing them with the best exhibits for all sorts of industry events. With the quality of our work and start-to-finish support, we want to help bring your target audience into your space, give them an engaging introduction to your brand, and convince them to place an order or purchase a product.
Xpo Displays has been in the industry for a long time now, and one thing that we are fully aware of is that every business exhibiting at an event is on a budget. We know that joining an event requires you to invest in your company. From travel expenses, to lodging, to staff per-diems and wages, you've got a lot to fit in your budget. We understand the challenge this brings you, which is why we offer more than just affordable exhibits. We offer value for your money.
The event exhibits that we produce are designed and built to maximize your ROI. Here at Xpo Displays, we want to help you look good, but we also want you to earn more and grow more. We look forward to providing you with the best event exhibit service!
Call Xpo Displays today at (407) 519-9116 for your Free Consultation!
Attract Your Ideal Buyers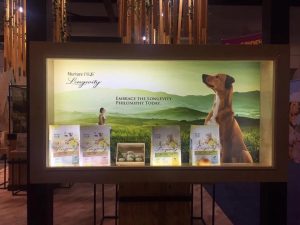 Here at Xpo Displays, every client's order is specially made to meet their branding, business goals, taste, expectations, and budget. That's the level of service we provide you, too! Whether you're looking for a custom-crafted event exhibit or a booth rental, we have just what you need at a price that you'll love.
If you already have an event exhibit concept in mind, Xpo Displays has the manpower and technology to bring that to life for you. If you don't, our display design specialists are ready to help you out. They can give you honest advice, practical tips, and professional insight so that you get the perfect blend of elements that clearly convey your brand message and speak to your target audience.




Whether you need help with design, material selection, layout, or accessories, our team of display design experts are equipped and experienced to bring your ideas to life! To make your event preparation even more hassle-free, we at Xpo Displays also have an entire team that takes care of installing, dismantling, and even storing your exhibits and elements.
Xpo Displays is your complete Miami-Dade County partner for events. We can't wait to work with you!
Event Displays That Get Results
Corporate events are excellent avenues for any business to market and promote its brand. Some go to just a few events a year while others make sure to keep their calendars full. Whether it's a trade show, convention, conference, charity events, or product launches, events are definitely something that businesses look forward to attending.
Having been in the corporate events industry for quite a long time now, Xpo Displays knows that you won't want to go to an event just to get ignored and pushed into the background. Your goal is to get noticed and to get your target audience engaged. No run-of-the-mill exhibit can help you achieve that goal. This is exactly why we at Xpo Displays are experts and advocates of even booth customization. We see to it that your exhibits and displays and booths are designed, fabricated, and set up to bring targeted traffic to your space.
Is an exhibit purchase out of the plan and out of the budget? Don't worry! We are a full-service display company and we have countless customizable elements, and we even have them for our rentals. With Xpo Displays, even a rental event exhibit can look specially made for your brand.
Event Organizer Partner
As an established Miami-Dade County sign, graphics, and display provider, our clientele isn't limited to businesses. We also help out event organizers by serving as event signage providers and exhibit referral partners for attendees.
We do a wide variety of booths and exhibits for all types of events. From registration counters, wayfinding signage, directory signs, flags, banners, etc. We give you the signs and displays you need for a price you'll love. We also see to it that they're set up, taken down, and stored properly and on time. Xpo Displays is committed to making your event impressive and impactful!
Quality & Results, Delivered On Time
Xpo Displays is a trusted designer, manufacturer, installer, and rental company for high-quality event exhibits, displays, and booths. We specialize in customizing that catch the attention and convey your brand message to your specific target market, and we can't wait to do just that for you!
Contact Xpo Displays today at (407) 519-9116 for your Free Consultation!